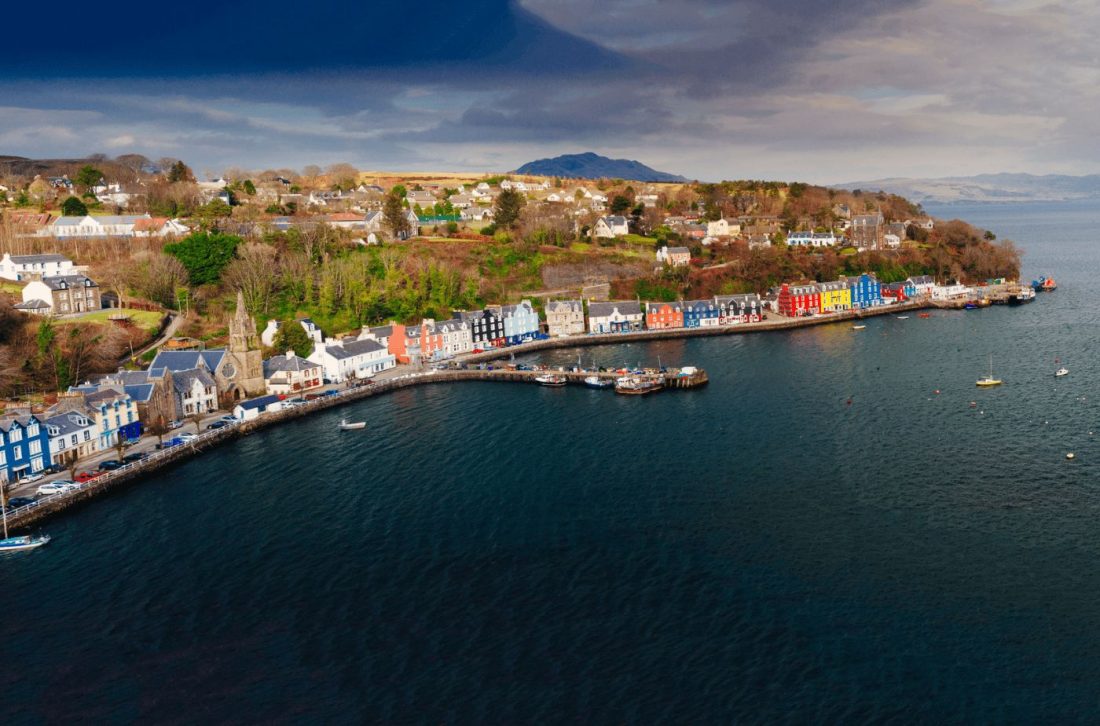 Isle of Mull, Craignure & Tobermory Shops
Along with many more amazing activities and sights to see, the gorgeous Isle of Mull has a spectacular range of independent and family-run shops on Mull to explore. Whether you're looking to pick up some trinkets and souvenirs, taste some delicious local cuisine, or simply do some essential shopping, there are plenty of Isle of Mull shops to choose from, including popular independent Craignure shops and Tobermory shops. 
If you're planning your island escape, our beautiful seaside town of Oban is the perfect location for holiday makers or day trippers to get to the Isle of Mull, because of its ease of access to all nearby islands. Whether it's a day trip whilst staying in Oban or you're stopping by before an extended holiday to Mull, our gorgeous boutique hotel would be the ideal location to sit back, relax and get yourself ready for your island adventure. We've created a list of shops on the Isle of Mull and where to find them, all a short ferry away from our sea view hotel in Oban town centre..
Gift & Speciality Isle of Mull Shops
Arlene Coffee Shop
Craignure, PA65 6AZ
Located next to the ferry pier in Craignure, this gorgeous family run coffee shop produces a selection of handmade artisan chocolate, to go perfectly with a freshly made brew. 
The Crofters' Kitchen and Gardens
Rosie & Nigel Burgess, Dail an Inbhire, Kintra, PA66 6BT
This hidden gem, nestled off of a beaten track connecting to a road going towards Kintra, sells an array of delicious, fresh organic produce, teas and coffees, and homemade cakes. Additionally, there is no staff or check out in this unique location, and instead, uses an honesty box system, where you leave a note and money in a box.
Mull Fine Craft
The School House, Ulva Ferry,  PA73 6LY
This family run craft shop handmakes a beautiful range of wildlife products for your garden and home, including hanging basket brackets, bird feeder brackets, tree ornaments, paintings and much more.
Calgary Art Gallery and Shop
Calgary, PA75 6QQ
If you're a lover of everything art, this gorgeous boutique art gallery and shop, located in Calgary woodlands, features a spectacular array of local artists' watercolour and oil paintings, sculptures, woven ceramics, handmade souvenirs and much more.
Fingal's Cave Gift Shop
Isle of Mull PA67 6DP
Fingal's Cave is a much-loved attraction on the Isle of Mull, where people from all over the world visit to experience its unique beauty and charm. Formed by a hexagonally jointed basalt, the enchanting cave attracts soothing sounds, mesmerising colours and remarkable symmetry. To document this unique experience, Fingal's Cave Gift Shop sells merchandise and Fingal Cave inspired souvenirs, as well as unique t-shirts, wall art, home decor and more, all designed by local, independent artists.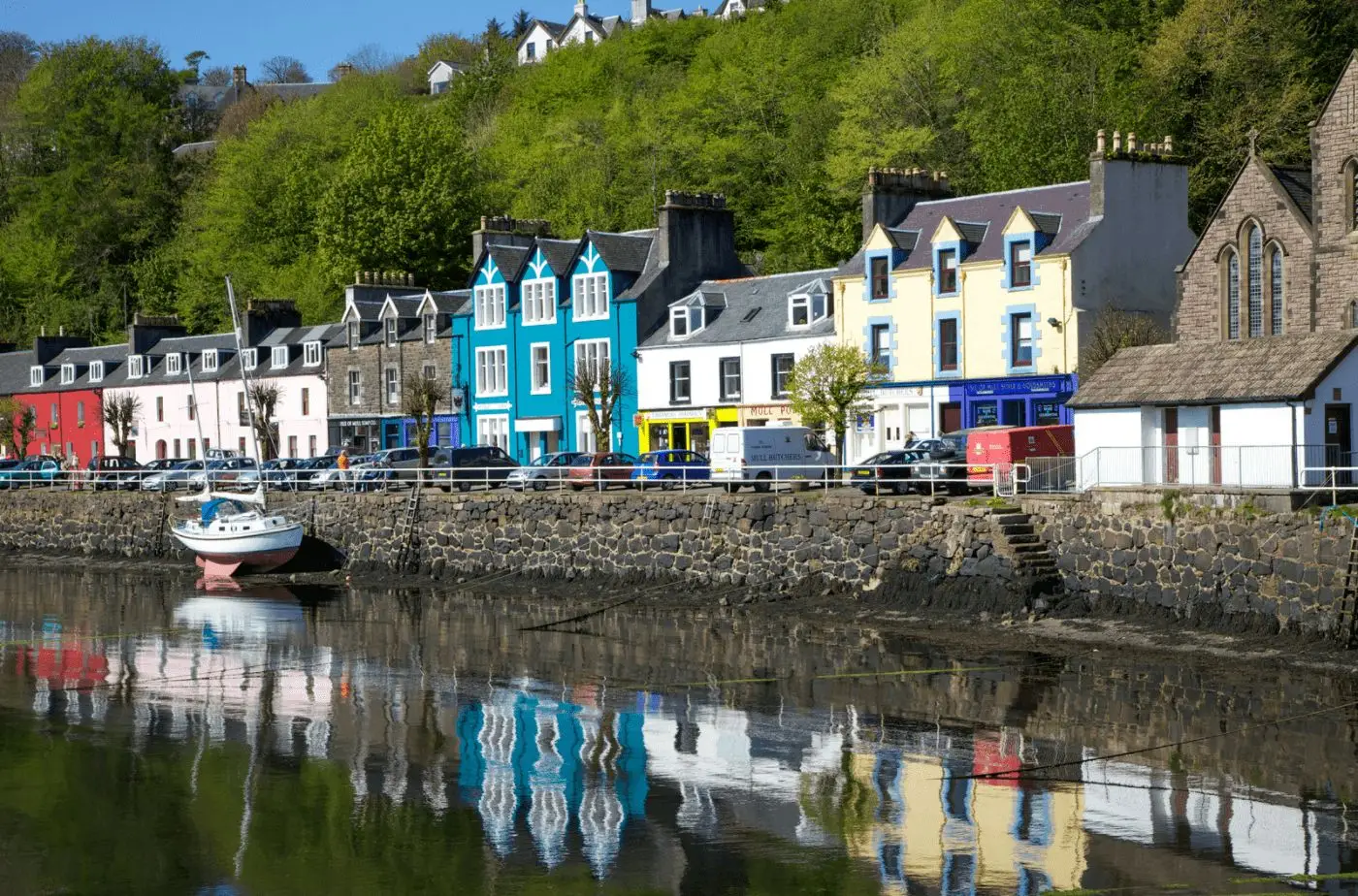 Gift & Speciality Tobermory Shops
Tobermory, on the Isle of Mull is labelled one of the most picturesque ports in Scotland, because of its main street filled with gorgeously pastelled coloured shops and attractions. The colourful harbour has a unique range of family-run and independent shops, perfect for all your shopping needs.
Tackle & Books
Main St, Tobermory, Isle of Mull PA75 6NU
Tackle & Books is a locally run, independent bookstore where you can find books, art and craft supplies, printing access, fishing tackle and a variety of products perfect for gifting to your loved ones. 
The Picture Gallery
Royal Buildings, Main St, Tobermory, PA75 6NU
The Picture Gallery is an Art Gallery, located in the Royal buildings, which features original paintings by local artists, Ronnie Leckie and Aska Marzec. Their unique artwork is either sold as limited edition giclee prints or uniquely printed on a collection of mugs. The Picture Gallery also sells unique trinkets like bismuth bowls, resin artwork, earth gem ammonites, amethysts and agates, fossil crystals, minerals and rocks and so much more; the perfect place to pick up a souvenir.
Island Blue Tobermory
Main Street, PA75 6NT
The Island Blue Tobermory, is a unique gift shop which stocks a variety of gorgeous gifts to give to your loved ones, and beautiful souvenirs to reminisce your trip to the Isle of Mull. This includes everything from children's toys to antique homewares, luscious skincare to majestic textiles, and so much more.
Tobermory Chocolate
Main Street, PA75 6NT
Tobermory Chocolate shop and cafe was founded by a Scottish family in 1991 which sells delicious local chocolates, made with the finest of local produce. Since there is nothing kids (and adults) love more than chocolate, a trip to this Tobermory shop is something the entire family will enjoy. All their chocolate is tempered and hand-dipped in the shop, so you can shop, eat and watch the handmade chocolates come to life, right in front of your eyes. 
Island Crafts
Main Street, PA75 6NT
Island Crafts has brought together a spectacular range of unique craftwork and art made by a variety of Isle of Mull artists. With stocks constantly changing, it is impossible to predict which spectacular items will be on sale each day, making it a must-visit when exploring Tobermory. 
Isle of Mull Ice Cream
Main Street, PA75 6NT
You simply cannot visit Tobermory without trying their locally produced ice cream. The Isle of Mull Ice Cream shop handcrafts unique flavours of ice cream to suit all taste buds. The ice cream flavours are carefully selected, to balance stocks between the local favourites, the seasonal classics and new unique flavours. It doesn't stop there. If you are more partial to low-fat frozen yoghurts or sorbets, they also offer an exciting variety of flavours for you to try. 
Isle of Mull Soap Co Ltd
Main Street, PA75 6NT
The Isle of Mull Soap shop is run by two local soap makers, who have specialised in making soaps, skincare, bath time treats and more, for over ten years. Perfect for gifts, the Isle of Mull shop sells and produces handmade Scottish soaps, luxurious skin care, delicious candles and a variety of unique gifts. 
Isle of Mull Silver and Goldsmiths Ltd
Main Street, PA75 6NT
Goldsmiths Ltd is the largest quality jeweller in the UK, with over 100 showrooms located all across the country. Located on the Tobemory main street, the shop supplies some of the finest celtic crosses, silver christening spoons, brooches, and more, for the more luxurious gifts and souvenirs. 
Mull Pottery
Baliscate Estate, Salen Road, PA75 6QA
This Mull Pottery shop features an exclusive range of handmade, locally produced pottery from unique artists and makers, based across the Isle of Mull and beyond. The unique pieces are hand thrown only, making each and every product unique.
Isle of Mull Cheese
Sgriob-ruadh Farm, PA75 6QD
The Isle of Mull dairy farm has been making cheese since the 1980s, and continued to diversify and develop each year, until it became the award-winning Isle of Mull Cheddar and Hebridean Blue cheese makers that it is today. You are free to visit the farm, sit back and relax in its cafe, shop its award-winning produce, and taste a selection of delicious samples.
Local Grocery Stores & Supermarkets on Mull
If you're staying for a long period of time or simply want to stock up on some snacks, there is also a large selection of local grocery shops to pick up all your essentials.
Tobermory Stores 
60 Main Street, PA75 6NT
Co-op Food – Tobermory
33 Main Street, PA75 6NT
Tobermory Pharmacy
46 Main Street, PA75 6NT
Craignure Stores
Craignure, Isle of Mull PA65 6AZ
The Ferry Shop
Fingal, PA66 6BL
SPAR Bunessan
1, A849, Bunessan, PA67 6DG
Craignure SPAR and Post Office
Craignure, PA65 6AY
Pennyghael Stores & Post Office
Pennyghael,  PA70 6HB
Whether you're shopping in the Isle of Mull for the day, or intending to visit for an extended break, the vibrant seaside town of Oban is the perfect base for your adventure, and an ideal stop over on your way to Mull. Our boutique shorefront hotel, with unique rooms and luxurious amenities, would be the ideal retreat to sit back, relax and break up your long day of travelling. Book here.
Also check out our Dog Friendly Restaurants & Activities on Mull and A Day Trip to Mull blogs to help make the most of island living whilst surrounded by its beautiful surroundings.