Dog Friendly Restaurants & Activities On Mull
With endless adventure possibilities, miles of beautiful coastal scenery, rolling hills, sandy beaches and a welcoming town bursting with lively local culture, Mull is the perfect place to explore with your four-legged friend. Whether it's a day trip whilst staying at our sea view Oban hotel, an afternoon or evening adventure, to our neighbouring isle, there are lots of dog friendly restaurants, pubs and activities on Mull to discover.
Things To Do On Mull With A Dog
We know your dog likes to stretch its legs, explore new places and make wholesome memories with you, that's why we've listed our favourite places and things to do on Mull with your dog.
Scallastle Forest 
Near Craignure lies Scallastle Forest, it's the ideal forest romp for you and your furry friend. With awe-inspiring views over the Sound of Mull, a rocky rushing river and rolling hills to admire, your dog will love Scallastle. 
Once a timber-producing forest where endless rows of conifers lay, now felled to allow native species including birch and oak to grow along the hills. With two trails to choose from, you can either follow the gentler trail to the Scallastle river, or tackle the steep loop uphill which affords gorgeous views across to the peak of Dun da Gaoithe. Please be careful on the tracks, you may come across some loose rocky areas when climbing. 
Whether it's a game of hide and seek, fetch, or simply exploring the trails together, you will lose track of time wandering through Scallastle Forest with your dog. 
Aros Park 
For a woodland adventure with your bestie, Aros Park is your best bet. Located a little outside Tobermory with great trails to explore, your dog will be truly exhausted after venturing through the winding paths. The Alainn View trail ends with a spectacular viewpoint, boasting views of the plunging Aros Burn waterfall. The Lochan Trail is a gentle walk which takes you around Lochan a Ghurrabian with a beautiful beach, along with impressive cypress and oak trees. And if your dog still has some energy left, you can also walk from Aros Park to Tobermory along the shoreline of Tobermory Bay.
Calgary Bay 
Facing Coll and Tree on the north west of Mull, lies Calgary Bay, one of Mulls most beautiful sandy beaches – perfect for a dog to run free and stretch its legs! Whether your dog likes to dig in the sand, splash in the water, roll about or run up and down the dunes, you could easily spend 2-3 hours at Calgary Bay. 
Once you're all tired out, there is a converted boat hut that looks over the bay selling coffee, cakes and ice-creams to help you both refuel and hydrate before another sprint along the sand.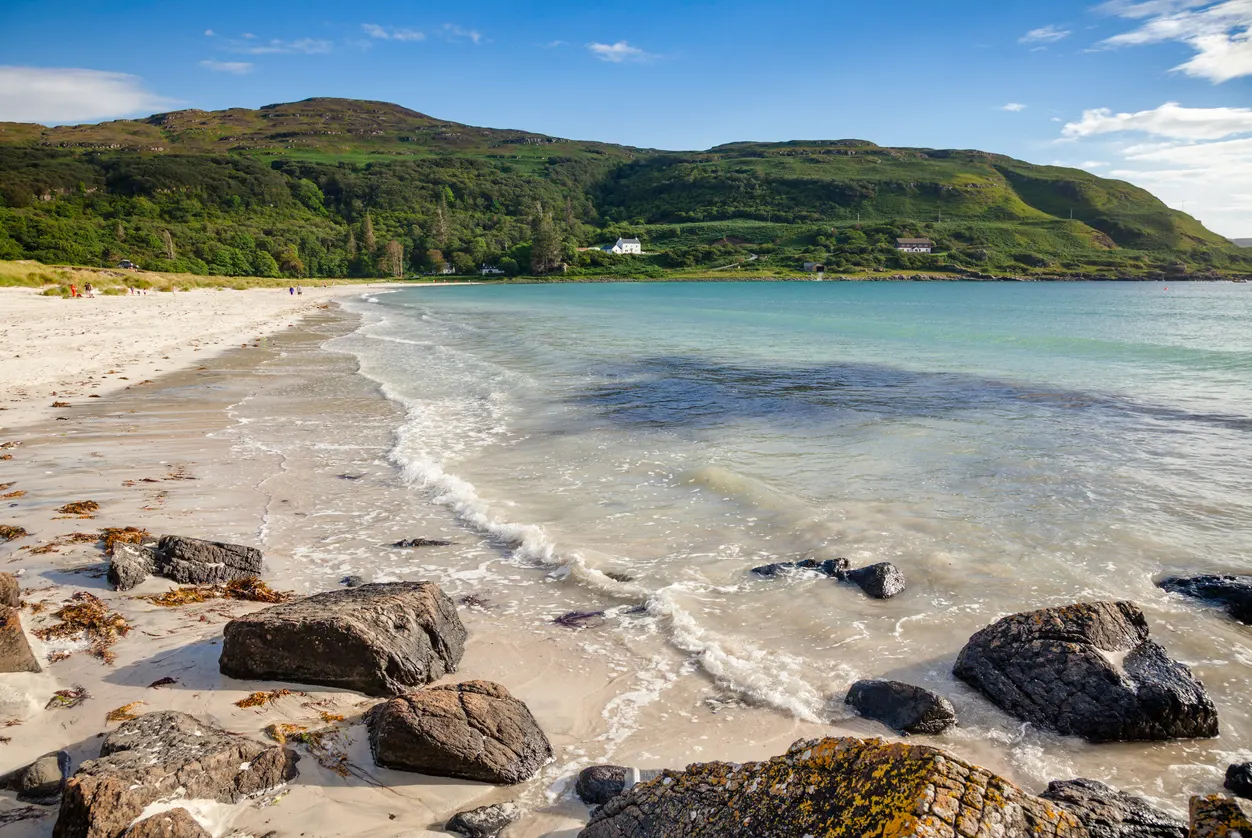 Tobermory Lighthouse Path 
Another great dog trail is the walk from Tobermory to Tobermory Lighthouse. Just follow the coastline until you reach the impressive Rubha nan Gall Lighthouse which affords beautiful views back over the mainland and the harbour. Fresh air, quality time and exploring, what more could a dog owner wish for!?
Dog Friendly Restaurants & Pubs 
Tobermory is bursting with dog friendly places to eat, making your trip to Mull even more inclusive for your four-legged companion. Whether you choose to visit a cafe, pub or restaurant, the locals will love seeing and clapping your dog. 
MacGochans 
If you'd like a change of scenery and to feel part of the Mull community, head over to Macgochans bar where you can wine and dine, tasting locally caught seafood and home reared meats. Plus, your pup is more than welcome to enjoy the atmosphere too, speak to one of the bar staff and they'll make sure your bestie has some fresh water to enjoy! 
And if you're brave in the autumn or visit in spring or summer, sit in Macgochans beer garden which overlooks the harbour. Sit back, relax, indulge and admire the beautiful scenery of Tobermory. 
Mishnish Bar
If you're writing your Mull bucket list, make sure you check out the infamous dog friendly Mishnish Bar for a refreshment and bite to eat. With a friendly atmosphere, traditional memorabilia of shipwrecks and the town, you'll feel right at the heart of Mull. As a dog friendly pub, you can tuck into some delicious seafood and pub favourites.
Tobermory Scullery
With a seafront setting, the Scullery cafe caters to your every need with breakfast, lunch and dinner options. From hot breakfast rolls, light lunchtime bites to hearty burgers, fish and chips, and hot dogs, the Scullery knows how to satisfy your appetite. 
If it's just a pit stop for a doggy water fill up and fresh Italian coffee, don't forget to pick up a mouth-watering homemade cake! Everything you see is fresh. Everyone you see is welcoming. It's the perfect place to pop by on your doggy adventures. 
The Bellachroy 
Another one of our favourite dog friendly pubs in Mull in the Bellachroy Inn, the oldest inn on Mull. Following a day of exploration, the Bellachroy Inn is ready to welcome you and your bestie to put your feet up, refresh and refuel. One you're settled, your fluffy companion will be given a bowl of water to help them settle at your feet. 
Serving the finest ales from Loch Fyne's brewery and an extensive range of malts from Tobermory, whisky connoisseurs will be spoilt for choice at the Bellachroy. They also sell all your favourite wines, spirits and gins to cater to every taste. 
Explore the West Coast
So no matter the season, the weather, or the length of your visit to Mull, you and your four-legged friend will always be welcome to explore the beauty of Mull. Take your pick from a range of scenic walks and then stop-by some of our local favourite cafes, pubs and restaurants where your dog will be the centre of attention. Plus, if you're continuing your west coast adventure and plan on coming to Oban, our dog friendly boutique hotel will welcome you with open arms and tell you all about the dog friendly places and pubs on our side of the water.