A 3-Day Oban Itinerary
We've put together the perfect plan to give you the best of the west coast in just three days. Feel inspired by the natural beauty of your surroundings and embrace the unique atmosphere of our friendly seaside town. From our Oban favourites to island day trips, it's time to pack your bags and plan your trip to No. 26 By The Sea.
Arrival Evening
When you arrive at our boutique hotel, take the time to settle in and enjoy some of our luxury room amenities that we have on offer. Use your smart speaker to set the mood and head to your en-suite to freshen up using some of your lush Gordon Castle toiletries. Once you're ready for the evening, head down to our Honesty Bar to pour yourself a pre-dinner drink of your choice.
Oban is known as Scotland's seafood capital and is home to some of the country's best eateries. So whether you want to go fancy and indulge in some of the freshest local seafood, or would prefer to keep it casual and visit one of the locals for some pub grub, click here to find out our favourite restaurants around Oban.
Day 1
Following a peaceful night's rest preparing for a day of adventure, enjoy an early breakfast of your choice. Whether you prefer a lighter breakfast of fresh fruit and pastries, or would prefer a full-cooked breakfast to fuel your day, we guarantee we have a tasty option for everyone.
When visiting the west coast, a day trip to Mull is a must. The island is filled with beautiful landscapes, rich local culture and amazing wildlife. Why not start your day by heading out on water for the day with a trip to Staffa Island where you'll find the famous Fingal's Cave, known for its spectacular natural acoustics. Then, when you've finished exploring the surrounding islands, head back to the capital of the Isle of Mull and discover some of Tobermory's best bits. To end your exhilarating day trip, tuck into some classic fish and chips by the sea and watch the sun go down, before heading back for a well-deserved rest at No.26.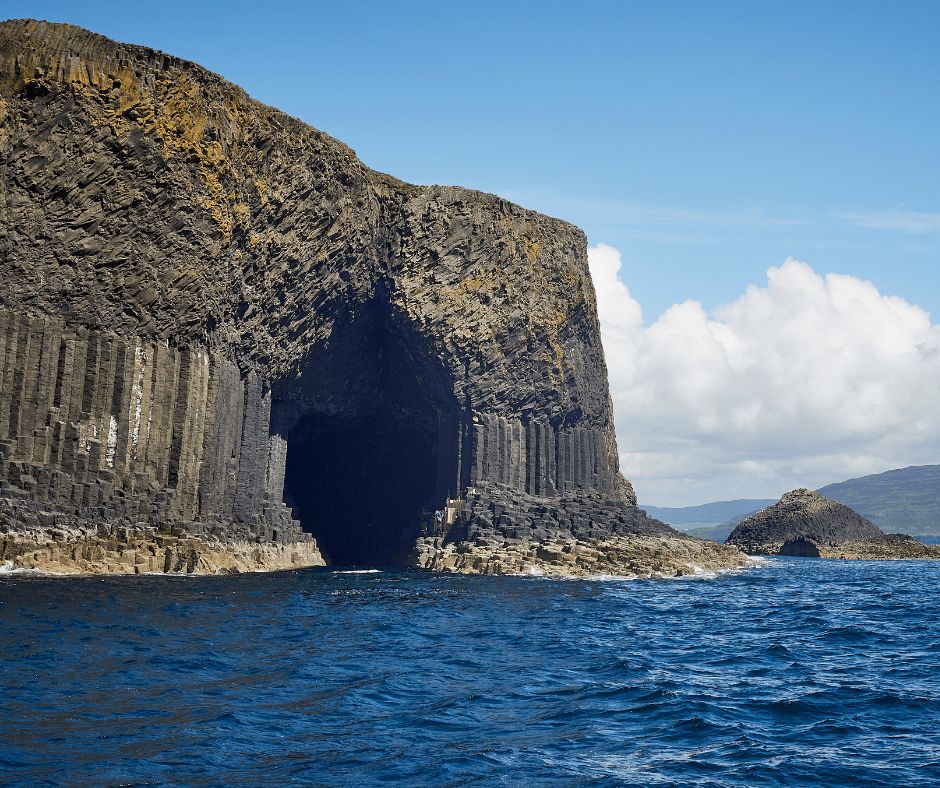 Day 2
On day 2, it's time to explore our favourite spots right here in Oban. Once you've had your hearty hotel breakfast, start your day by seeing the town on water, with a sea kayaking excursion around the picturesque Oban Bay. This not only gets your adrenaline pumping but allows you to explore the west coast in a completely different way, and even gives you the chance to see some dolphins, seals and other local wildlife in their natural habitat.
Another one of our favourite attractions is the town's historic Oban Distillery. Not only a recommended experience for whiskey connoisseurs, this is a fun day out for all. Taking its name from the town that acts as the 'gateway to the isle', our local distillery and its 14 year old single malt, reflects the location and character of Oban. The distillery offers various tours guided by knowledgeable whiskey experts who will teach you the art of distilling and their processes, before offering you a fine dram to finish the tour.
Day 3
For your third day visiting our wonderful seaside town, we recommend a more relaxed morning, before heading out for the day. Once you feel refreshed and revived, pack your beach essentials and head off down the Corran Esplanade towards the Ganavan Sands, before lunch at the Seafood Shack. Just a 30 minute stroll away or a 10 minute easy cycle along the coast, you'll find the gorgeous golden beach of the Ganavan Sands. This is the perfect place on the west coast for a casual stroll with your four-legged friend, a beach picnic with your loved ones or even a dip in the west coast water on a sunny day.
Once you have explored all that the Ganavan Sands has to offer, join us back at the Honesty Bar, where you can pour a drink and watch the Oban sun go down one final time on our Sun Terrace.
Your 3-Day West Coast Adventure
Filled with rich local culture, amazing restaurants and historical attractions, the town of Oban itself is definitely worth a visit. Whether you stay with us to complete our 3-day west coast bucket list or decide to extend your trip to go on an even bigger adventure, our boutique shorefront hotel is the perfect base for your next Scottish hotel break.