Golf Courses In & Around Oban
Scotland is the home of golf. As a country, we're truly spoilt with an abundance of well-designed, enjoyable, and picturesque courses to play.
Our town of Oban is no different. We have plenty of courses to play while you visit!
We've listed some of our favourite courses below with key information about the course and directions on how to get there!
1. Glencruitten Golf Club
Glencruitten, also known as Oban Golf Club, is a fantastic spot for some golf! This course can be found in the stunning Glencruitten Glen, only 1.5 miles from Oban's Town Centre.
Glencruitten Golf Club offers a short yet challenging course that's nestled among the beautiful hills that surround Oban. You'll encounter some difficult approaches and fairways that require a bit of skill to overcome; but don't worry, the course is designed to be enjoyable for golfers of all levels, so whether you're a pro or a beginner, you're in for a great round!
Once you've finished your round, you can head over to the clubhouse, where you'll find delicious catering options to tuck into. If you need any golfing gear or accessories, the pro shop on-site is fully stocked, so you can grab everything you need for a successful round.
Fun fact: Glencruitten is the home course of European Tour Winner, Robert Macintyre.
2. Taynuilt Golf Club
Located near the Munro Ben Cruachan, Taynuilt Golf Club is an absolute gem for golfers visiting Oban. This challenging nine-hole course, with its rolling parkland, has been delighting golfers since its establishment in 1987. Taynuilt Golf Club may be short in length, but it has numerous tough holes to contend with.
Over the years, Taynuilt Golf Club has earned a well-deserved reputation as one of the finest nine-hole courses in the region. So, if you're seeking a golfing experience among stunning surroundings, Taynuilt should definitely be on your list.
3. Dalmally Golf Club
Found between the stunning views of Ben Cruachan and Ben Lui, you'll find Dalmally Golf Club. This picturesque parkland course offers nine holes of challenges suitable for all skill levels. Whether you're a seasoned golfer or just starting out, Dalmally has something to offer.
The third hole, known as Orchy Splash, is a par three that spans 160 yards and crosses the picturesque Orchy River, boasting the majestic backdrop of Ben Cruachan. It's undeniably one of the most demanding and scenic holes in all of Argyll.
Dog lovers will be pleased to know that Dalmally Golf Club is a dog-friendly club, ensuring everyone can enjoy their game. So, come on over, tee up, and experience the beauty, challenges, and fun that Dalmally has to offer.
4. Isle of Seil Golf Club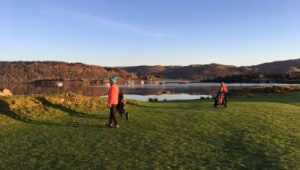 Isle of Seil Golf Club can be found 13 miles south of Oban. The nine-hole course opened its doors in 1996, and despite its size, offers a challenging and fun experience for golfers of all levels.
As you play through the course, you'll be treated to scenic views of Seil Sound and the picturesque surrounding hills. The Balvicar Bay and slate quarries add to the unique character of this golfing experience. So, if you're up for a highly enjoyable 9-hole adventure, Isle of Seil Golf Club is perfect for you!
5. Inveraray Golf Club
Prices:
Yardage: 5,598
Facebook: https://www.facebook.com/profile.php?id=100057558845630
Inveraray is a nine-hole course that offers stunning views of Loch Fyne and the surrounding hills that will leave you in awe.
As you make your way through the nine holes, comprising two par threes, one par five, and six par fours, you'll be treated to gorgeous views of Loch Fyne and the surrounding countryside. So, even if you encounter a bit of trouble during your round, take solace in the breath-taking sights that surround you.
Inveraray Golf Club is the perfect destination for golf enthusiasts seeking both a challenge and the beauty of nature. Get ready to tee off, enjoy the stunning vistas, and create unforgettable memories on this remarkable course.
Stay and Play!
If you're interested in visiting one (or all!) of the above golf courses, we've got the perfect place to stay overnight…
Our luxury hotel boasts stunning views of the Oban shorefront and is the perfect place to indulge in all that our town has to offer. And like Dalmally Golf Club, our hotel is dog-friendly!
Book Now!